How Does UV Light Kill Pathogens?
UV rays have different wavelengths, and there's a common misconception that they all do the same thing.  UVA has the longest wavelength of 320-400 nm, which is responsible for 95% of the UV radiation that reaches the Earth's surface. UVB of the wavelength of 280-320 nm is what will give you sunburns and possibly skin cancer.  UVC with wavelengths 200 -280nm is called the germicidal bandwidth. Only UVC rays have been scientifically verified to effectively destroy a wide range of pathogens.  This is because shorter wavelength radiation is more energetic, and can successfully alter the pathogens' DNA.  Unfortunately, almost all current consumer UV disinfection machines on the market that are intended to kill germs actually have a limited effect on the majority of pathogens.   The reason is that these machines use low-cost glass-based UV bulbs that block UVC lights, as shown in the transmission figure below.
Why Is This Machine Special ?
Effective – We have been producing special UV machines for over 15 years. This machine is professionally made with the following unique features: Our machine uses a quality Quartz UV light bulb having wavelength shorter than 250 nm, which is extremely effective in killing pathogens.
Powerful – We incorporated a high power 8W UVC bulb. In comparison, similar machines contain only a 6W glass UV bulb.
Refreshing – Since our light bulb generates short UV radiations that is powerful enough to ionize the air, generating ozone. Ozone is a well-known gas that removes odors by destroying malodorous volatile compounds, particulates, and bacteria. Ozone chemically reacts with these substances, breaking them down into harmless and odorless molecules. Therefore, our machine offers a desirable attribute of refreshing masks.
Automatic – This machine has a timer from 1 to 60 minutes so that your items can be automatically disinfected. This product is suitable for disinfecting face masks, cellphones, wallets, key chains and other small articles made of glass, metal, or plastic.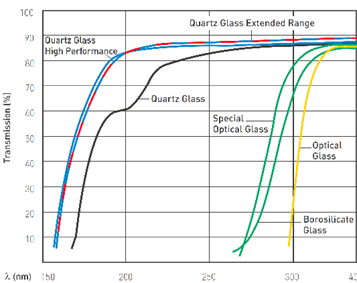 Fig. 1. UV light transmission through various bulb materials