SKU: SUVA
This is the most powerful UV curing spotlight with the longest curing time on the market; its output power density exceeds legacy mercury UV lamps and comes with a 2-year manufacturer warranty against LED burnout.  At the focus point, it burns paper, as shown in the above YouTube video, but will not burn epoxy due to its heat sinking.   The elimination of a UV light bulb replacement significantly reduces operating costs without sacrificing the curing quality.  Perfected over 15 years in manufacturing applications, the curing light not only shortens processing time but also achieves deep and full epoxy curing with 365 nm UV illumination.  365nm can cure epoxies with longer curing wavelength specifications since a shorter wavelength has higher photon energy.   Other wavelength emissions are also available so that customers can have a tool with a broad radiation spectrum, especially using the four-head module.  This handheld tool features compact size, ease of use, and longevity.  It can be switched on/off either by a finger press or a foot pedal.   The curing time is settable by a timer ranging from 10 sec to 60 min.  A special LED in combination with multi-lens optics ensures good uniformity and high intensity over a 4 mm focus spot.  The optical power can be adjusted by moving from the spot to a larger circle, while the collimating optics maintains a good uniformity over a large working distance.  An adjustable power setting controller is also available (see four-head module page). The compact tube shape allows the curing of hard-to-reach areas.  The design leverages military/aerospace gear development/production expertise and funding, realizing a ruggedized professional-grade production tool that has a wide customer base in optical and medical device assemblies.   It incorporates special cooling that permits continuous operation without LED degradation for many years of operations.    The product passed all certifications for use around the globe.  We are in stock for fast shipment.  Satisfactory is guaranteed with a 3-day free trial policy.   The separately listed accessories are useful:  the UV head magnetic gooseneck base stand allows hands-free operation and eases/accurate power adjustment; the affordable calibration UV power meter ensures consistent power level for each curing by performance periodically quality control measurements.
Note: The item once shipped can not be returned.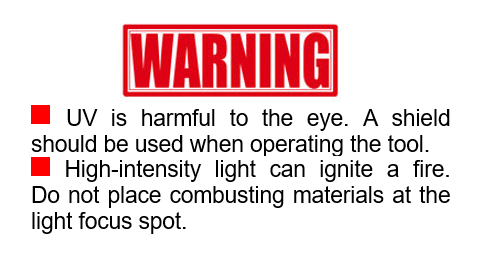 Questions and Answers
Q: What is the best wavelength I should choose if my epoxies have a wide range of curing wavelengths?
A: All epoxies can be cured at a shorter wavelength since these UV lights are more energetic and provide better and deeper curing. However, not all epoxies can be cured at a longer wavelength that requires a special formulation to be cured thoroughly.
Q: If I want to cure a UV epoxy through a piece of transparent plastic, what wavelength head should I choose?
A: Transparent plastic blocks 365nm UV light. Therefore one needs to choose an epoxy that can be cured at 450nm and choose the matching head.
Q: Is the UV head output power calibrated?
A: The output power of each UV head is tested to meet the range stated on the datasheet. Since the output power of each UV head is highly sensitive to the actual sample position, we recommend customer to calibrate the power density using a power meter in place of the sample. The power can be changed by adjusting the UV head position using our holder or by setting it in the four-head control box.